Because I am a slave to the capitalist system, I decided I needed some money. Fortunately, my Aunt Mary said I could come down to Columbus, Ohio and help her with crap. So I did. And here I am.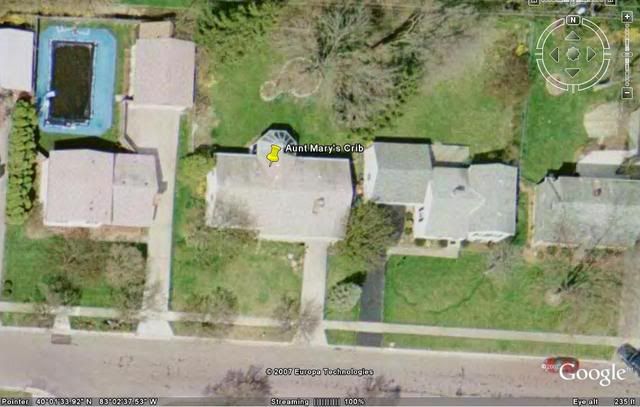 Basically, I spent all day pulling weeds and hedging stuff. She has some cool gardening technology, so it's not that bad. She has this electric clipper that cuts through bushes like they're Elisabeth Hasselbeck and I'm Rosie O'Donnell (except I don't lose my job after cutting them down, and I'm also not a fat lesbian). I get to be a bit creative in how big of a rounded , massacred heap of stems I make the bushes. She also has this dig-it thing that connects to the hose, and basically makes muddy holes in the ground by spitting water at them.
What has this blog come to? I'm talking about gardening tools. I am pathetic.
But not quite. I was able to get in contact with some of my OSU contacts, and met up with them. I've never been to OSU's campus, and to be perfectly honest (would you expect anything less), I was not real impressed. The dorms do not even have carpet. They actually bring in their own carpet to put in. That totally blew my mind. We played pool at the crappy rec room, and then had a burrito at the crappy burrito eat-place. The burrito wasn't as crappy as it could have been, and it was free...We reminisced on old times, which consisted mostly of him hitting me in the face....hmmm, I'm not sure why I still consider him my friend...
Tomorrow I go to the plant store and buy plants to plant. Then I might "hit the town" as they say with some other friends who happen to be here. I guess this trip wasn't a total bust.
In other news: The Barry bought his Bonnaroo tickets today. Shake his hand next time you see him.
Love and happiness,
Barry